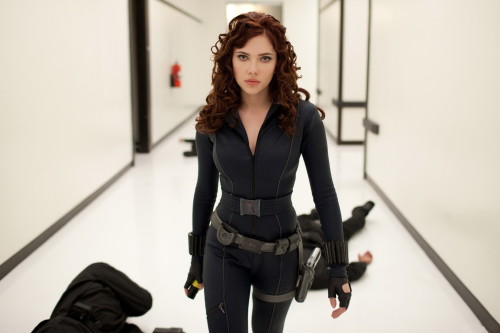 I hate clothes, okay? I hate buying them. I hate picking them out of my closet. I can't stand every day trying to come up with little outfits for myself. I think eventually fashion won't even exist. It won't. I think eventually we'll all be wearing the same thing. 'Cause anytime I see a movie or a TV show where there's people from the future or another planet, they're all wearing the same thing. Somehow they decided "This is going to be our outfit. One-piece silver jumpsuit, V-stripe, and boots. That's it." We should come up for an outfit for Earth. An Earth outfit. We should vote on it. Candidates propose different outfits, no speeches. They walk out, twirl, walk off. We just sit in the audience and go, "That was nice. I could wear that." – Jerry Seinfeld
Exactly. Every sci fi film shows that people from advanced civilizations on other planets have worked this out before us. Let's stop trying to reinvent the wheel and get with the program. Those people are onto something big! I agree with Jerry; I hate shopping too. Once I find something that I love, why keep going on wild goose chases to replicate perfection?
So I know I'm not alone in my desire for a simpler wardrobe. My closet is spacious, but I'm thinking of reducing the contents even more. That brought me to the idea of creating a personal uniform. What I want is something that looks great, is super comfortable, and is easy to care for – something so awesome that I'd get seven so I could wear one every day of the week. Steve Jobs did it. I mean why ruin a winning formula, right? He went completely against the standard expectation of a suit and tie, then kicked ass while being comfortable.
I saw that some clothing designers have had a similar feeling about the personal uniform idea. Last year I read a really cool article about half a dozen fashion designers who have chosen one palette for every piece of clothing they wear. They each wear only one colour all year round, which I find awesome and beautiful.
Wearing a jumpsuit might be ideal. One item; zip it up and you're ready for anything! However, when people think of a guy in a 'jumpsuit', they tend to think of prisoners, Elvis, or mechanics. BUT… jumpsuits can also be super amazing! Check out almost every super hero. Chances are they are wearing some kind of jumpsuit and they look great! Fitness counts when wearing a tight jumpsuit, so there's more motivation to keep in shape. Here's a guy at a Comic Con wearing a skintight Tron jumpsuit.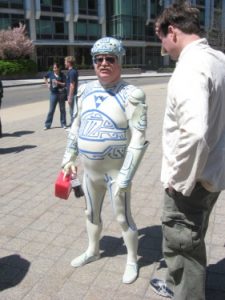 When I first heard about cosplay, I thought, "Okayyy, those people seem obsessive." Although I've yet to attend a Comic Con, I now am beginning to appreciate the concept. Basically everyone wants to be (or at least feel like) a superhero. Dressing up for Halloween is fun, but now they have more opportunities to get into character and meet with likeminded people. Nothing wrong with that. I don't know what my problem was.
Now I'm thinking that I should design my own superhero uniform. I don't want to pretend to be someone else. I simply want to evoke the best aspects of me, while looking super! Most of the standard superhero outfits would cause quite a stir on the streets. Nothing is stopping me from being extra super any day of the week since I work from home.
If you think about it, wearing all of the so-called 'normal' things from the store is like wearing someone else's idea of a costume. Fashion trends dictate so much of what is even available to buy in the shops. It is intriguing to consider designing my own distinct look and getting it made. I'm no seamstress.
Plus, there are also more relaxed jumpsuits that aren't so tight and would look amazing anyplace. Here is a variety of casual jumpsuits to wear for any occasion.
Jumpsuits are one of the most comfy pieces on trend, they are so easy to wear and pull off and they just look really cool on. One piece suits have been pretty famous over the  past seasons and they still are, weather (sic) as a short romper version or as a pant jumpsuit, loose or thigh, sexy or romantic, with a print or however you like it, this fun all-in-one trend is here to stay during the entire summer. – Andrea Carolina
My partner just said, "I wonder if there's jumpsuit designing software?" OMG I love that guy!  The best part is that, yes, there is free fashion designing software available for anyone to create your own style (not only jumpsuits).
So what do you think about this personal uniform idea? Is it something you already do, or something you would consider? Please use the comments section below. If you could transform yourself into any kind of unique superhero, what would you be? What would your costume look like?