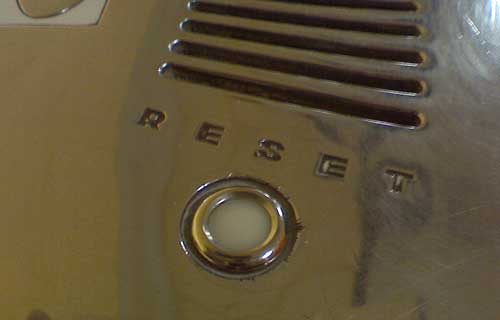 Is it time for a big change?
Maybe you have calmly come to the conclusion that you need a lifestyle makeover. Chances are, though, if you have come to this conclusion, things have gotten pretty messed up first.
If things have gotten far too confusing and your own stuff feels completely overwhelming… when you keep losing items that were right under your nose and you feel like it's all too much (because it really is too much) here's a wonderful alternative to feeling frustrated or freaking out …
Hit the reset button & start over
How exactly does a person hit the reset button on life? There are various ways to achieve a major life reset, like changing the status of your relationships, or completely changing how much you eat and move your body, or switching careers. Each of those can work for some situations, but what I'm suggesting is that you clear your space – completely. This is a top to bottom, inside and out, 100% overhaul. This is a sharpening of the focus for accomplishing what you want to get out of your one wonderful life.
Renew your vision of who you are and how you want to live.
Make a Clear. Clean. Fresh start.
One way to accomplish this is to pack up and move. You could move to another country, but it works just as well if you only move down the street, or to a different apartment in the same building. Maybe you rent and are ready for a big change, so this sounds like a doable plan for you. However, I realize that for some people, moving is out of the question. Some people live in their ancestral family home and vow to never leave, and that's okay. You can still behave as if you're moving.
Get excited about this big wonderful change for the better! Set aside some time (like an entire weekend or two) to sort through all of your stuff. Purposefully streamlining the things you own to those that support the life you want is a powerful way to bring focus to your life. A professional organizer can help you to focus on your priorities by asking the right questions to help you decide. Maybe you also have a friend or family member who can be supportive, helpful, non-judgemental to make the task of confronting the clutter feel more liberating than daunting. Now that you've set a date, get a bunch of boxes and get ready to make some magic happen in your life!
First pack one bag
This bag is for the essentials that you'd need if you were going on trip nearby for a few days.  Check out this related post: We're having a tossing party & you're invited! for some audacious inspiration and a very short list of suggested items to pack in your one bag. Once you have put everything that is completely critical for normal daily life into that one bag, you can breathe a little easier knowing that nothing that you truly need will be misplaced in the big shuffle that is about to happen.
Then deal with the super easy stuff
There are things that you are absolutely sure you can part with easily. Now is the time to get them out immediately. I'm talking about garbage, recycling, and things that need to be returned. Take out the trash and give back anything you've borrowed. Now is the time to let go of anything you've been meaning to donate. Get it out of your house today. Go!
Then stop for a moment to appreciate what has already been accomplished. No doubt, you've already made noticeable progress! Alright. Enough patting yourself on the back, keep going!
Perhaps there were some items that you don't want, but are more valuable than say $20. and you feel they are worthwhile to take the time, effort and space to sell. Snap some photos of those items and post them online to kijiji.ca, craigslist.com, ebay.com,  gumtree.com.au or wherever people sell stuff near you.
Now that you're warmed up, it's time to challenge yourself
The easy stuff has been dealt with and you are left with more demanding decisions. This is when you need to clarify your goals and then keep the big picture in perspective. It's time to reassess everything in your life & have fun with it. Ask yourself, "What do I want my life to be about right now?" Maybe it's developing a new business that you've been dreaming about, or preparing to retire and travel the globe, or creating an awesome homeschooling environment for your kid. Whatever you feel is the most important thing to focus on, now is the time to bring on the laser focus.
Be true to your bigger goals – don't keep everything
Keeping everything would mean that you're not taking responsibility for making the tough decisions. No one else can decide for you, but that's alright because you know what you need.  You are taking control of your life in this moment.
This process will require about ten thousand decisions, but if you stick with your plan to completely RESET, then you will feel ten thousand times better when you are done.
I admit that calling it a "reset button" is over simplifying it a bit, especially when you're in the midst of resetting, but that's how it feels once you've done it. As they say, you've got to crack some eggs if you want to make an omelette, so it'll get worse before it gets better.
Persevere until your space reflects the clarity that you have been seeking
When you are done, all that will be unpacked are your very favourite, most cherished possessions. These are the things that make you smile and help you accomplish what you want to do every day. Everything else that was not empowering to you right now – will be gone from your physical and mental space. It feels so refreshing, you will think, "Why on Earth didn't I do this sooner?!" This fresh perspective is the impetus to kickstart the projects that you actually do care about (or to continue those important projects with renewed clarity of focus).
Sorting out what you allow in your life and getting rid of everything that's not important, literally gives you a new mindset on everything. It's a reset button. Go ahead. Hit it!