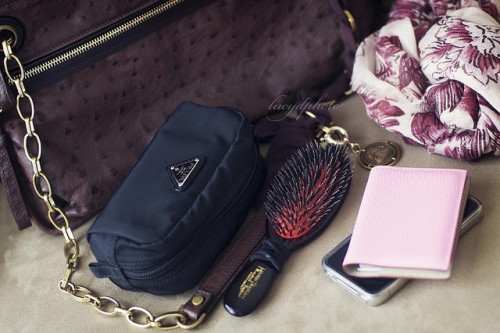 Only the Best
Being a minimalist means that we value quality over quantity, and that we value beauty that is paired with functionality. That's why I've decided to write a very short list of items that I feel qualify for the "Made to Last" list in the Emporium. One of the items on this list is the best hairbrush in the world. I didn't originally deem it's place in the world, but I agree. Of course, I haven't tried every hairbrush that exists, but of the ones I have tested, I'd say it's simply is the best hairbrush in the world.
Mega Long Lasting & Super Effective
I just worked out that I've had my Mason Pearson hair brush for 19 years!!! (what?!) It should be no surprise, then, that it has begun to lose bristles.
Twice I foolishly replaced it with inferior brushes and each time I ended up keeping my old one instead. It feels great in the hand and on the scalp. It brushes wonderfully and detangles without breaking the hair. The brush is compact, looks awesome and makes my hair look awesome too.
It Pays to Get Quality Items
For an item that I have used and appreciated so much every single day, the price is extremely low. Over 19 years I've used it at least 12,000 times, so the price works out to about one one-hundredth of a penny per use, or about $6. per year. So although it may seem expensive compared to other brushes, it's actually an amazing deal because it's so small, effective and lasts so long.
Of course, using only a comb would be even more minimalist, if your hair length, curliness and style permit using only a comb. There are also haircuts that are so short that even a comb is unnecessary, which is even more minimalist. 
I cut most of my hair off and thought I could do without anything. After a month of having super short hair, I have decided to keep and continue using my brush because it massages my scalp, is good for my skin, and is a pleasurable sensation.