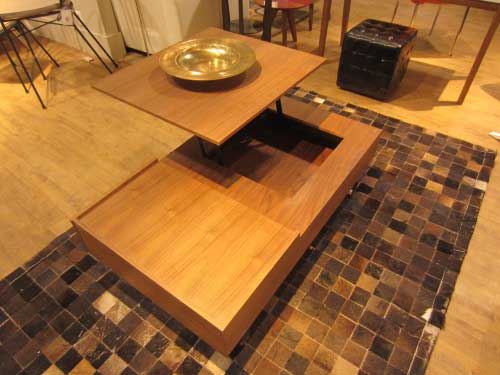 Transforming Furniture is Awesome!
I love, love, love things that transform and have hidden utilities. I saw this walnut coffee table in a furniture shop and was excited by the various uses it could serve. The table top swings up to be used as a surface to eat on or work at. It's a wonderful use of space. I can imagine people using it as a tray to eat while in the living room, or as a desktop to write, draw or use a laptop. Under the extending table top, you can see that there is also a hidden storage area below.
Ingenious & Mysterious Delights
Ever since I was a kid, I was enchanted by the idea of castles with secret passages and hidden rooms behind the walls, under stairs, or between floors. How many times have we seen someone in a film move a candlestick, or pull a book, to reveal a secret entrance to a hidden space? These hidden and transforming spaces appear all over the place; in books like The Chronicles of Narnia with the magical wardrobe leading into another realm; in Harry Potter with the train station to the wizard school and a secret building that forms between two other buildings. More transforming spaces appeared in movies like Raiders of the Lost Ark with hidden tombs and passageways; on floor 7 and a half, with a portal into another mind in Being John Malkovich. In The Matrix, a door might first open to one place, then be closed and reopened to lead to a completely different location. The Adjustment Bureau has a similar feature but it's accessible only while wearing a magical fedora hat.
Although these are fantasy examples, the reality is that the notion of transformation and hidden space is appealing to basically everyone. Here are a couple of examples of how I have used hidden spaces and transforming furniture to my advantage:
Incognito Storage
We once stored all of our worldly possessions beneath a staircase and then plastered over the sides. Voila! The secret storage room became absolutely invisible. Then we rented out the apartment and went on a year long expedition, while our things were safely stored for free back at home. The new inhabitants had no clue that there was a hidden room full of our treasure under the staircase.
HiddenBed = Murphy Bed + Desk, all in one
I currently have an amazing desk that transforms into a bed. It's called a  HiddenBed. I first saw it on display at the CNE fair a couple of years ago and was completely amazed. It swivels so the desk stays perfectly level even during the transformation into a bed. Because of that feature, the items on the desktop (even an open glass of water) don't need to be removed in order to convert the desk into a bed. That is extremely convenient. In a small room, this bed/desk enables the inhabitant to feel that they have double the space. Lucky for me, my husband is extremely clever and handy with tools. He figured out how to build one for me, which saved a couple of thousand dollars. It's not cheap, but I would have bought one if he didn't build it. The design is brilliant and I love it. Anyone who has seen it in my home felt the same way.
Multifunctional Items Abound
Sometimes, though, things don't need to transform themselves, but it is us who must transform our ideas of how items can be used. We can utilize many things in multipurpose ways. When we do so, we can reduce the number of items we own, yet retain all of the functionality we had before. There are hundreds of different uses for many of the small things that surround us every day. Bins, bags, boxes, bowls… it's up to our imagination. I will be keeping my eye out for more transforming furniture and cool items that are multipurpose to share with you, and I hope you will do the same. Please share your stories with us too!