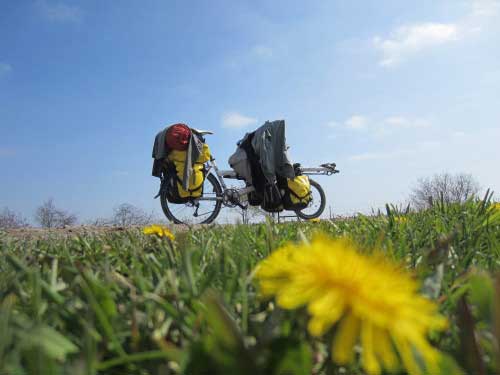 This is part two of Minimalist Cycling Adventures
We left on May 1, 2012…
Since we were camping along the way, we were carefully aiming our departure date to avoid as much cold and snow as possible, yet leave early enough to avoid the most intense heat of summer and most of the biting insects as well.
Only a few days before we left, it snowed, but once we got going it didn't snow again. Magically we avoided almost all of the rainy days too. About once a week we found a hotel or bed & breakfast to have one day of rest. Either the rainy days would occur on our planned days of rest, or we'd hear the weather forecast and arrange our break day on the rain day.
On these weekly rest days we'd shower, wash our clothes, dry or air out all our gear,  eat pizza and sleep in a soft bed. Ahhh, it was so lovely to appreciate the intense pleasures of clean water that simply gushes from a tap, flush toilets, hot water and electricity. It's so amazing how quickly we can take these miracles of technology for granted. Their existence utterly changes our lives.
Now, if you saw my extensive packing list, you might rightly say that it didn't look very minimalist. However, if you compare to the average amount of gear most people pack to go on a weekend camping trip with a car, you'd have to agree that for 2 people on a 3 month trip, the gear we brought was as minimized as possible. It had to be because we were going to be climbing mountains, slogging through thick mud, deep loose gravel and pushing against gale force winds. To be fair, on other days, we also had sunshine, fine packed trails, paved roads, the wind at our backs and happy times. We planned for all weather while packing for such a long trip.
Our route and our gear were planned with care to ensure we had the essentials but no excess. Every item was assessed for comfort and function. Multiple use items are wonderful, such as bringing an empty pillow case to make a pillow, by putting clean clothes into it. It can also be used to separate items inside a bag.
We carried 7 litres of water per day. That was the heaviest yet most important thing because the location of the next water source was always unknown. We also carried a few days of food, an emergency water purification pump, pots, camp stove, fuel, clothes, toiletries, bedding, tiny folding chairs, tent, tarps and bike tools.
For this epic journey, packing light involved test runs. We not only tried out all of our gear on weekend excursions, but also weighed the bags and thought long and hard about how we could lighten the load and distribute it evenly.
In the end we carried slightly over 100 pounds (45 kg) of gear for two people on a three month expedition. Organization and teamwork got us from Ontario to Newfoundland and back! It was a most satisfying, challenging and beautiful journey. The reduced quantity and high quality of our gear was vitally important to our ability to attain our goal and enjoy our adventure.
I first came up with the concept for this post while writing an article about Amazing Minimalist Vehicles. For now, I'm sticking with bicycles, but when the two-wheeled EcoMobile / MonoTracer becomes more readily affordable and available, I will reconsider my options.