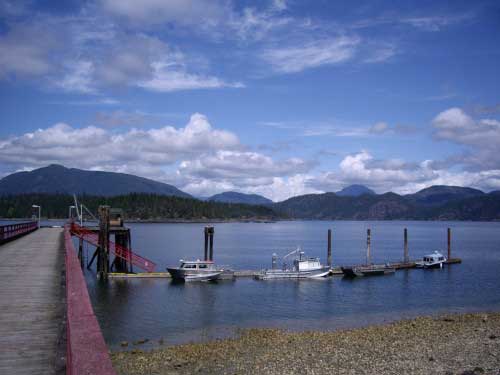 After writing the article about the film, "My Stuff", I realized that I had left out some really important parts of my experience while living simply on a tiny island in British Columbia for 3 years.
Preparing for the simple life was a challenge and an adventure in itself. The first step was to reduce our stuff dramatically before leaving the city. We got rid of almost everything. It felt very liberating and exciting.
The life we lived in the city was very different from what we were headed toward. We owned a 3 unit house that we'd renovated. We lived in one unit and rented out the other 2 apartments. That meant we had all sorts of items that were weighing us down. We sold the house on Craigslist. Huge burden lifted.
I gave away all of the furniture and even items like cutlery. My mom looked at me, very concerned, and asked if I planned to kill myself! Moms always worry. That seems to be a big part of the job. But that reflected how important she thought these things were to me. But no – I felt more alive than ever while losing those chains.
I left with 4 Rubbermaid bins; 2 containing personal items (such as clothes, mementos, and important papers) and 2 containing kitchen and bathroom stuff. My partner reduced to 11 bins, mainly containing construction/renovation tools. These were the only things that were truly important to us.
Since we didn't have a specific destination in mind, (other than coastal BC) we planned to camp in our tent and scope out the various locations until we found the perfect spot.
Once we found our new home, we lived without furniture for the majority of our time there. We began with two hammocks, which we used as chairs, couches, swings, and beds. A couple of years later we were given a coffee table and we made shelves with wooden boxes that also served as display cases at craft shows.
It was necessary to buy a few new things. The garden required the most equipment; hoses, rakes, shovels, wheelbarrow, etc. Since the power could go out for 2 weeks at a time, we also invested in some extra batteries for flashlights, fuel for our camp stove, as well as candles and lanterns. Luckily the house had a wood stove, so we could always chop wood for heat, and there was a well to throw a bucket into, even when the pump had no power running. It felt good to be prepared and able to handle such challenging conditions when the need arose.
Preparing for the simple life was exciting. Living it was an adventure that I cherish, and I am likely to do it again.