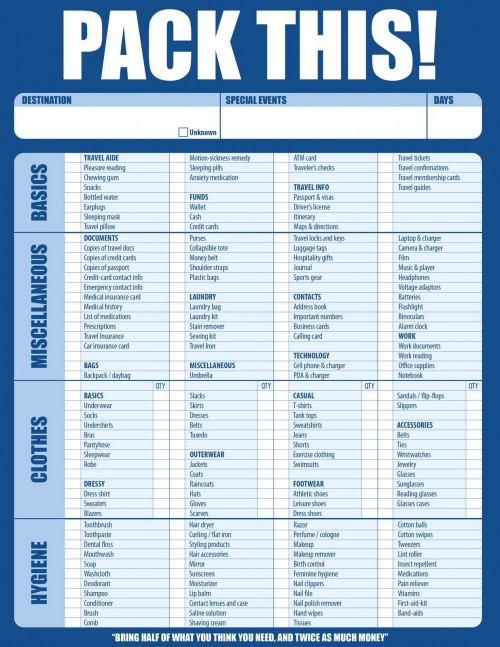 This photo is a very thorough list of every item under the sun. It is certainly not a minimalist list, but it can be used to create your own minimalist version of essential items to pack.
Writing a Packing Plan
Whether you travel occasionally or frequently, a packing plan is an extremely helpful tool. A packing plan speeds up the task, eliminates the need to re-think the whole matter every time you travel, and exponentially reduces the possibility of forgetting something crucial. If you've ever gone on a journey and left something important behind, you never will again if you utilize a packing plan. A packing plan also helps prevent bringing irrelevant items more than once, and helps to clarify the essentials.
Edit the Packing Plan
I've been using a packing plan for many years. The key is to use it every time you're going on a trip and most importantly, to edit the list once you return home. As you unpack, carefully study your list items and recall how often you used each item, if you even used it at all. Make a note beside the items that were only used rarely. Remove items that were not used at all. Keeping track of the items that were unnecessary prevents you from reconsidering bringing them again on your next trip. It's a reminder to prevent making the same mistake twice.
I love having only one carry on bag!
Carrying only one small bag eliminates the wait in the airport both in checking in and getting out; eliminates the risk of losing my bag; and makes it easy to get around. I don't travel to spend more time rummaging through my things. I travel to explore, and I can do a lot more exploring much more easily with only one small bag. It allows me to be more spontaneous. I can walk around and mingle while others are juggling their gear. There are no baggage fees and there's no need to pay a porter or get a cart to lug your stuff around. The less you bring, the less worries about misplacing something. It's less stressful and makes more efficient use of your precious holiday time. The key to travelling light is to carefully consider every item and keep a great packing list.
The key to bringing fewer clothes is to carry items that:
can be washed by hand (no dry cleaning items)
are quick drying
don't wrinkle
all colours go well together (see monochrome in minimalism)
are multipurpose (for example: bikinis can double as undergarments, hankies as wash cloths, microfibre towel as a sarong, headband as a sleeping mask)
bottoms must all have pockets! (not an issue for guys, but finding good sized pockets for ladies is a challenge)
An example Packing Plan
Here is my list for a two week vacation to a tropical all inclusive resort. It looks like a lot of items, but it all fits in one carry on sized bag and weighs only 12 pounds (5.4 kg).
Essentials
passport (and any other ID that is necessary)
cell phone (with plane e-ticket & digital boarding pass). Ensure the phone is set to plane mode and roaming is turned off.
Bathroom (carry on liquids in a clear ziplock bag; under 100 ml each)
comb
razor
toothbrush & tiny toothpaste & floss
menstrual cup
condoms (&/or other birth control)
deodorant (I use a 'crystal ball' mineral salt)
bug repellant wipes (these are so compact & great for carry on)
sunscreen
shades / eyeglasses (cloth & case) & contacts (saline & case)
makeup: tinted lip balm, blemish coverup, clear mascara
nail clippers & tweezers (not necessary on a shorter trip, check carry on allowances)
Clothing
2 bathing suits (bikinis can double as underwear/bra)
2 pairs of socks
3 sleeveless tops
2 short sleeve shirts
3 long sleeve shirts
1 windbreaker/sweater
1 tennis skirt
2 shorts
2 long thin loose trousers
1 pair sandals
1 pair runners
Miscellaneous
cash (divided in 3 & put in separate spots in my bag & pockets)
credit card/ debit / bank / interac card
very small backpack (with water bladder) (I have the previous version in grey)
thin bag (parachute material, holds clothes to become a pillow & to carry snorkel & mask to the beach)
towel (thin microfibre material, doubles as a sarong)
headlight (with good batteries)
small notebook and pen
headband / sleeping mask
laundry soap (tiny amount)
2 hankies
earbuds
business cards
So that's my list. Of course, if you are a guy, the makeup, menstrual cup, tennis skirt and bikini can go, LOL! Maybe you'd prefer to read a paper book rather than an audio book or reading on your phone. Maybe you have prescription meds. Maybe you're a hat person.If you are going on a 3 month bicycle camping odyssey, you'd need bedding, cookware, soap etc., but luckily resorts have that stuff covered. It's up to you to customize your packing plan to suit your specific needs. A great resource is onebag.com
Happy travels!
Do you use a packing plan? Love to hear about your essentials for travel.