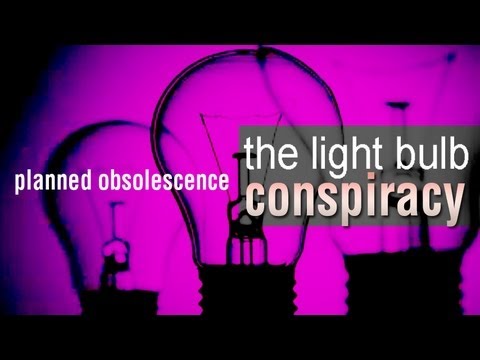 The Light Bulb Conspiracy shows how planned obsolescence is an integral part of the curriculum at design and engineering schools.
Boris Knuf lectures on Product Life Cycles in his engineering classes. His blackboard has words like, "Make it desirable – stylish – functional". The goal of successful engineers and designers is frequent repeat purchasing. A company's business model includes how often the product or offer will be renewed, then they design the product in a certain way so it exactly fits that business strategy.
Teflon coated frying pans (versus cast iron, stainless steel, aluminum, or copper) are a perfect example of items designed for obsolescence. The coating is inherently delicate and inevitably gets scratched despite careful use and washing.
Another example; many people get a new mobile/cellular phone every year, whether it still functioning well or not. The cell phone companies make a big display in press conferences and advertising for their latest and greatest gadgets and updates of technology so that we will be dissatisfied with perfectly functioning items and feel we should replace them. 
The use of inferior materials, fabrics, and components also significantly shortens the lifespan of many products. No doubt you have experienced the frustration of a flimsy, non-repairable plastic component breaking on an otherwise perfectly sturdy product. 
Computer printers are designed to fail. Printers contain a chip holding software instructions that cause the machines to stop working after a certain number of pages or a limited number of years of use. "When the user reaches a preset number of prints, the printer locks up", Marcos of Barcelona said. However, when the chip is removed, the printer functions properly again. The chip can also be reset by installing some free software.
A new generation of consumers is beginning to challenge manufacturers to reduce our negative impact on the environment.
Serge Latouche is a prominent critic of the unbounded growth business model. He said,
The 3 crucial factors are advertising, planned obsolescence and credit." and, "Anyone who thinks that infinite growth is consistent with a finite planet, is either crazy or an economist." He asks, "With this growth society we are sitting in a racing car that no longer has a driver, running at full speed, and that will end up crashing into a wall or run off a cliff."
John Thackara asks some thought-provoking questions like, "Is it necessary that a new product is created on Earth every 3 minutes?" and "Is consuming more the best way to boost an economy?" Thackara points out that in poorer countries, it's unthinkable to throw away anything just because it broke, and all items all get repaired if possible, automatically.
In the last generation or so, our role in life seems to be to consume things with credit, to borrow money to buy things we don't need. That makes no real sense to me at all. – John Thackara
And it's clear that this ridiculous notion of borrowing money to possess things before we have saved enough to buy it outright, has been going on far too long already. In "Death of a Salesman" Willy says, "For once in my life, I'd like to own something outright before it's broken."
Planned obsolescence has been around for longer than you might think. "The Man in the White Suit" is a 1951 film about inventing an everlasting fabric, but the manufacturers and factory workers were very unhappy with the inventor.
An almost identical situation occurred in real life, when Dupont first introduced their nylon stockings for testing. They were extremely durable. Not only did they not 'run' or tear during normal wear, they were shown being used to tow a heavy vehicle! However, to sell more nylons, more often, they went back to the labs to make the fibres weaker so they wouldn't last as long.
In contrast, communist countries suffered from a shortage of supplies and were interested in efficiency rather than planned obsolescence. In former East Germany, regulations stated that fridges and washing machines should work for 25 years… and they did. Now that the Berlin wall has been down for a generation, consumerism is equally rampant there as in other parts of Europe.
People all over the world have started acting against planned obsolescence…
Click here to read the final part of this discussion of the documentary, The Light Bulb Conspiracy: The Untold Story of Planned Obsolescence.